HOA & Commercial Landscape Maintenance
HOA & Commercial Landscape Maintenance
When it comes to maintaining your commercial landscape in Colorado Springs, trust the experts at Bear Claw Landscaping. With years of experience and a team of skilled professionals, we are dedicated to providing top-notch commercial lawn maintenance services to businesses in the area.

As one of the leading landscaping companies in Colorado Springs, we understand that first impressions matter. A well-maintained exterior creates a positive image for your business and attracts customers. Our team is committed to ensuring your commercial property remains visually appealing, vibrant, and well-groomed throughout the year. Contact our team to get started!

Our Services
At Bear Claw Landscaping, we understand the need to maintain a professional and inviting appearance for your commercial property. That's why we offer a wide range of services to keep your landscape looking clean, healthy, and attractive:
Mow, Trim, Blow (Mowing, Edge Trimming, and Blowing Off Loose Debris After Mow)

Aerate

Turf And Tree Fertilization

Pre & Post Emergent Weed Control For Turf And Landscape Beds

Moisture Management

Spring, Mid-Summer, And Fall Pruning Of Shrubs

Spring And Fall Clean Up's

Blade Edging

Irrigation Turn On & Irrigation Winterization (Blowouts) And Irrigation Checks And Repairs

Native Grass Mowing

Seasonal & Off-Season Trash Pick-Up

Season & Off-Season Dog Waste Station Service

Commercial/Residential Landscape Construction & Renovation

Landscape Enhancement

Mulch Turning

Landscape Renovation

Flower Bed Install/Maintenance

Winter Watering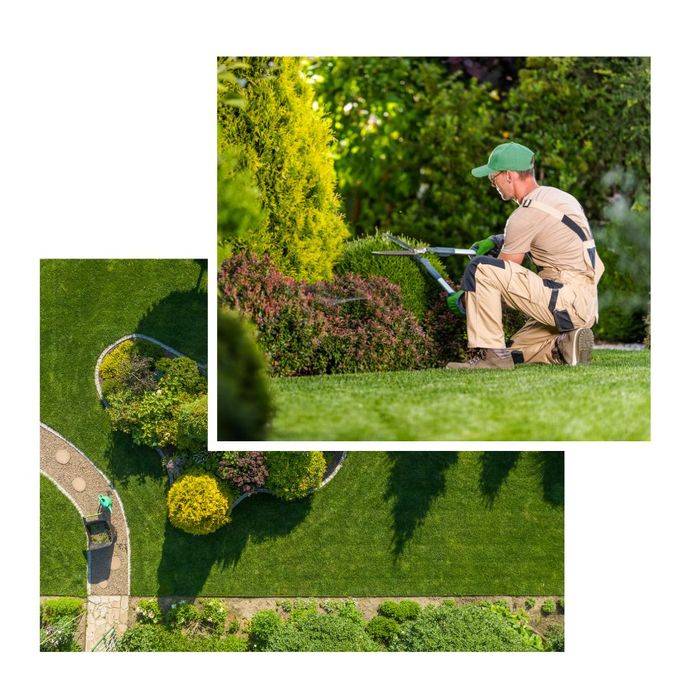 Why Choose Bear Claw Landscaping
What sets us apart from other landscaping companies in Colorado Springs is our attention to detail and commitment to quality. Our team of professionals takes pride in their work and goes above and beyond to ensure that every aspect of your commercial landscape is perfectly maintained. We use the latest equipment and techniques to deliver exceptional results efficiently and effectively.
When you choose Bear Claw Landscaping for your commercial lawn maintenance needs, you can expect reliable and responsive service. We understand that a well-maintained landscape requires regular care, which is why we offer flexible maintenance schedules to fit your business's unique requirements.
"Thank you so much for the beautiful landscaping project all of you worked so hard at. Our home is a House and Garden Showcase. All of our neighbors think our yard is just beautiful, we couldn't be happier."

-Joan M.

"Adam and your crew did an amazing job with the walkway to the east of our house. The landscaping in the yard is absolutely gorgeous. So many of the neighbors have told us how beautiful our yard looks. Terry, I can't thank you and Adam enough for making our yard into a dream come true. Thank you again for a beautiful job well done!"

-Gene & Joan

"Just a brief note to let you know how pleased we are with our new sprinkler system and replacement sod. The system works "as advertised" and is a welcome relief from the hose brigade of the last few years. Our only regret is that we didn't do it sooner. Adam and his crew did an outstanding job-very professional, courteous, and excellent installation. Please give Adam our appreciation and thanks. Feel free to use our names as references in the future."

- Bob & Betty M.
Trust the experts at Bear Claw Landscaping for all your commercial landscape maintenance needs in Colorado Springs. Contact us today to schedule a consultation and discover how we can transform your commercial property into a visually stunning space that leaves a lasting impression.